First Five Nebraska Director Jason Prokop testified today before the Nebraska Legislature's Appropriations Committee on utilizing the state's allocation of American Rescue Plan Act (ARPA) funds to support the child care workforce. The hearing, which addressed LR178 and LR179, drew a broad array of testifiers offering different perspectives on using ARPA funds for telecommunications, transportation and housing, health care, family support services and other purposes.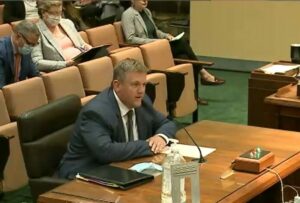 Prokop's comments drew attention to the central role child care plays in the state's economic infrastructure and ongoing strategy for recovery and growth. COVID-19 has amplified fundamental weaknesses in the child care system—particularly low levels of worker compensation and inadequate professional supports for child care programs and providers.
These challenges undercut the operational viability of child care programs and discourage educators from choosing or remaining in the child care industry as a rewarding career. Prokop noted that attrition in child care programs throughout the state is widening the gap between available slots and the potential need of families of young children who have all available parents in the workforce.
An analysis by the Bipartisan Policy Center indicates that gap was approximately 12.3% in metropolitan areas and 30.4% in rural areas before the onset of the pandemic. Since then, the total number of licensed child care providers in Nebraska has decreased by 7.4% as of September 2021.
Based on input from child care providers throughout the state, First Five Nebraska submitted four key recommendations for potential investment of ARPA funds:
Offer graduated salary supplements through Nebraska's WAGE$ program based on early childhood workers' educational credentials and experience in the child care system
Enhance scholarships offered through the T.E.A.C.H program to help offset expenses associated with pursuing associate's or bachelor's degrees in Early Childhood Education
Expand Nebraska Department of Education scholarships to increase the affordability of Child Development Associate (CDA) credentials, Step Up to Quality trainings and other professional development opportunities
Offer financial retention and recruitment incentives to keep experienced professionals in the child care industry and attract new talent to the field.
Prokop said the ARPA funds represent a crucial opportunity to recruit, train and retain more early childhood professionals as a necessary foothold for creating long-term, systemic change in the industry. "We must take urgent steps first to stabilize, then sustain our early childhood infrastructure if we are to avoid cascading losses to Nebraska's economy, marketability and overall quality of life," said Prokop. "Investing ARPA funds in the care and development of our youngest children will better support the social and economic vitality of Nebraska as a whole."
Read FFN's testimony on LR178 and LR179
Read FFN's Policy Brief: Investing ARPA funds to streamline Nebraska's early childhood professional workforce