Nebraska's Prenatal-to-Age-3 Plan
Nebraska's Prenatal-to-Age-3 Plan will make equitable, high-quality programs and services more accessible to pregnant women, infants and toddlers throughout the state.
Statewide initiative focused on our youngest children
The first three years—beginning in the prenatal period—are crucial to children's lifelong development. During this time, the developing brain forms as many as one million new neural connections per second, which makes children's earliest experiences crucial to their future learning, as well as their mental, behavioral and physical health. However, far too many families in Nebraska lack ready access to essential programs, services and systems that help meet the specific developmental needs of very young children.
In response to this challenge, First Five Nebraska is coordinating a statewide Prenatal-to-Age-3 (PN-3) Plan to advance public policies and strengthen systems to help families better guide the healthy development of their youngest children. This cross-sector effort involves close collaboration with Nebraska's Preschool Development Grant partners—including state agencies, business and economic development leaders, early childhood professionals and families—to increase equitable access to high-quality early care and learning, health, mental health and social service supports. Nebraska's PN-3 Plan is part of a national effort funded by the Pritzker Children's Initiative (PCI), and led in collaboration with the National Coalition for Infants and Toddlers (NCIT) and the Prenatal-to-Three Policy Impact Center.
Increasing access across Nebraska
Working together, we have set ambitious goals for connecting more Nebraska families—especially those of low income—to essential early childhood programs and services:
Near-term goal: 25% increase in access (15,000 children by end of 2023)
Long-term goal: 50% increase in access (30,050 children—ongoing)
Aligned early childhood systems and supports
Nebraska's PN-3 Plan involves community and state leaders in coordinating a full suite of aligned, accountable and sustainable early childhood systems and supports. Focus areas include:
Ensuring higher levels of access to subsidized and transitional child care assistance
Increasing the quality, capacity and availability of quality child care programs
Expanding availability of nutritional supports, developmental screenings, prenatal and maternal mental health services
Reducing infant and maternal morbidity rates
All goals and strategies for Nebraska's PN-3 Plan represent a commitment to ensure equitable participation so families, children and providers of diverse race, ethnicity and language can thrive.
Nebraska's Prenatal-to-Age-3 Plan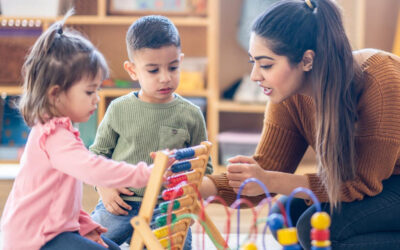 Alert: Submit an online comment to the Nebraska Legislature by noon Central Time on October 10, 2023 The Nebraska Legislature's Health and Human Services Committee will hold a hearing October 11 on interim study LR191, introduced by State Senator Teresa Ibach to...
read more
Amy Bornemeier
Policy Liaison