Editor's Note: The National Conference of State Legislature's Early Learning Fellows program supports legislators and legislative staff who are experienced or emerging leaders on early childhood and early learning issues. It builds knowledge about new research and policy; promotes an exchange of ideas and solutions related to early learning, the early achievement gap, and other issues; and introduces and connects legislators to other legislative early childhood leaders. Prior Fellows from Nebraska are Senator Tanya Cook, Senator Sara Howard and Senator Kate Sullivan.
Senator John Stinner and I were selected to be National Conference of State Legislatures' (NCSL) Early Learning Fellows for 2016. Through a competitive process, 24 legislators and five legislative staff were selected from over 100 invitees. We attended two day-and-a-half meetings and participated in two webinars.
At the first meeting in Omaha in May, we heard from experts on brain architecture, federal child care funding block grant funding changes and innovative financing through social impact bonds and "pay for success" strategies. We toured the North Omaha Learning Community and heard from Sam Meisels and Christine Maxwell from the Buffett Early Childhood Institute; superintendents Mark Evans of Omaha Public Schools and Jim Sutfin of Millard Public Schools. At the end of the meeting I asked the NCSL staff about their experience in Omaha. They were very pleased, both with the meeting logistics and the ground-breaking activities to improve early childhood outcomes that are occurring here. The staff were so pleased they had already discussed the possibility of holding the May 2017 meeting in Omaha.
The second meeting was in Chicago in August. We heard presentations about the "power of play," priorities in early childhood development, data-driven systems and supports, leadership as the key to success of early learning programs and home visitation programs.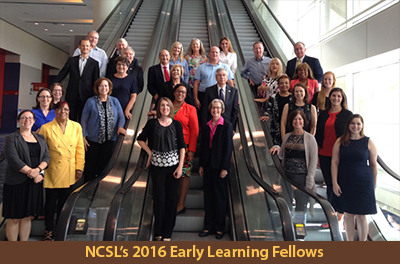 There was also a panel discussion on the newly released Institute of Medicine Parent Support Study. Iheoma Iruka from the Buffett Early Childhood Institute was a panel member.
I'm so very grateful for the opportunity to learn from national experts in the field of early learning. Each session emphasized the importance children's earliest years have on educational achievement and the quality of life throughout their lives. I'm especially proud that in many ways Nebraska is viewed as a leader in early childhood education.
During the legislative session, I will use the knowledge I gained through the fellowship to assist senators in understanding early learning programs, strategies and financing as early learning policy is developed.
Senator Stinner on his experience as an Early Learning Fellow
More information about NCSL's Early Learning Fellows Program
Liz Hruska
Fiscal Analyst
Legislative Fiscal Office