Like many areas of the state, Beatrice and Gage County face opportunities and challenges affecting their long-term development. Working in their favor is a growing array of active projects involving corporate site development, major business attraction, quality of life improvements and a countywide action plan focused on expanding affordable housing options.
Still on the radar as a key challenge? Creating a high-quality child care infrastructure to develop, attract and anchor a much-needed up-and-coming workforce in Beatrice and Gage County.
First Five Nebraska Senior Policy Associate Elizabeth Everett connected these issues during a presentation at the Gage Area Growth Enterprise (NGage) annual meeting in Beatrice recently. She was invited to speak about the relationship between early care and education and economic development at the event, which drew more than 60 business, public policy, education and community leaders, including Senator Myron Dorn (District 30), University of Nebraska Regent Robert Schafer (District 5), Beatrice Mayor Stan Wirth and NGage Board President and Pinnacle Bank VP Andrea Schafer.
Quality care helps parents, communities
"We know that safe, stimulating, reliable child care options allow workers to participate in the workforce and be fully present and engaged at their jobs," said Everett. "That's important to young adults who are looking for the right kind of community to grow a career, start a family and put down roots in Nebraska."
It's also important to employers and community developers who need a stable talent pool to drive workplace productivity and market their towns and cities as desirable places to locate jobs and businesses.
Unfortunately, the high cost and low availability of quality care affects both parents and employers. Everett pointed out that, in Legislative District 30 (Gage and southeast Lancaster counties), about 78% of children under age 6 have all parents participating in the workforce.
"That means the large majority of this region's active workforce has a pressing need for stable, reliable, developmentally appropriate child care," said Everett.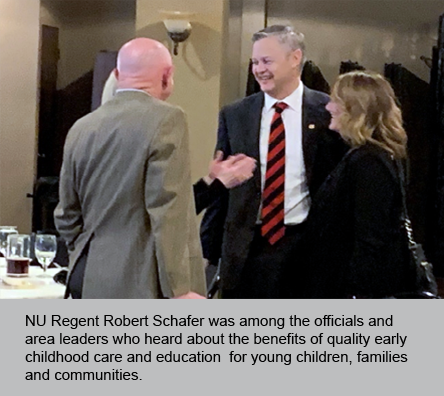 High cost, low availability
Most child care of any kind is hugely expensive—the annual cost for newborns can be as much as $12,000 a year, nearly one quarter of the median household income in Gage County ($52,000). For multiple-child households, the percentage can be 40% or more. Paradoxically, most child care professionals barely earn enough to make their own ends meet due to the cost and effort involved in running a successful program. As a result, fewer aspiring educators are entering this tremendously important profession each year.
"We're at the point where you need to consult with your local child care providers about starting a family—even before raising the subject with your spouse," quipped Everett. "That's how far ahead you need to plan if you want to be sure there'll be an open child care spot waiting for you when the time comes."
That means more pressure on working parents to find child care coverage, on employers who need to fill open positions and reduce employee attrition and on economic developers who need a robust local workforce to market their communities to new employers and talent.
Study to show Nebraska cost of child care breakdown
According to recent research, breakdowns in child care availability comes at a national cost of $57 billion in lost earnings, productivity and revenue (ReadyNation, 2019). Everett said First Five Nebraska is developing a similar study to measure those economic losses within our state as a wake-up call to decision makers in public policy and economic development.
While Gage County's 3.1% unemployment rate isn't the lowest in Nebraska, it points to an extremely tight labor market. "With about 58,000 unfilled jobs throughout the state, Nebraska can't afford to overlook any potential source of working talent," said Everett. "If a parent is willing and able to participate in the workforce to provide for their family, they shouldn't be prevented from doing so because of the cost or availability of quality child care."
The answers to this challenge in Gage County and the state lie in building more dynamic partnerships between public and private sector interests, encouraging major corporations to demonstrate meaningful leadership and exploring alternative funding sources through economic development mechanisms like LB840 local option funds.
"In the end, this isn't just about solving a major challenge facing us here and now," said Everett. "We have to decide what's best for our youngest kids and our state in the long term. The same kinds of skills that are rooted in children's earliest learning experiences are the same ones we'll need in tomorrow's workforce—communication, problem-solving, self-regulation, task focus and other kinds of fundamental skills that are relevant to all areas of employment. It's about planning for the civic and economic future of Beatrice, Gage County and our state overall."
Learn more about First Five Nebraska and our work at FirstFiveNebraska.org, Facebook, Twitter and LinkedIn.